Welcome!
I love road trips, wandering and exploring places, camera in-hand. Mood and atmosphere are important elements in my work, and subjects include people, animals, objects, or structures in locations with a mysterious or mystical tone. I enjoy experimenting with image processing, printing on a variety of papers and other materials, and creating just the right presentation for the finished work. Commissions and special requests are welcome.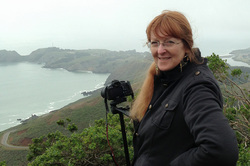 ---
About My Art-Making Process

My work occurs in three phases. The first phase starts when I see something of interest. I quickly follow my inspiration, snapping many pictures as I explore. I try not to get bogged down in one idea, pausing between groups of shots to check results and make technical adjustments as necessary. I ask myself if I got what I envisioned and if there is anything else I should try, change perspective by moving to another spot, or if there are other interesting features either close up or more distant that I should include.

The second and third phases take place in my studio. I transfer the images from camera to computer. I edit images in various software, usually creating multiple versions and screenshots as I explore ideas and areas of interest.

I print the images on fine art photo paper using a large-format inkjet printer. Then, I select a presentation to protect and display the final work.
Background
I studied art and photography at California State University Northridge and various community colleges, and have taken many photographs using digital and film media. I also view the work of other photographers and artists, and share my work with professional photographers to learn from their feedback.
Exhibition History
I've exhibited and sold my work at art fairs throughout California, in galleries, such as The Studio Door in San Diego, and internationally at the 4th Biennial of Fine Art & Documentary Photography in Berlin, Germany.